Thời Trang
H'hen Niê và ba sắc màu hạnh phúc, đưa cô trở thành huyền thoại sắc đẹp Việt Nam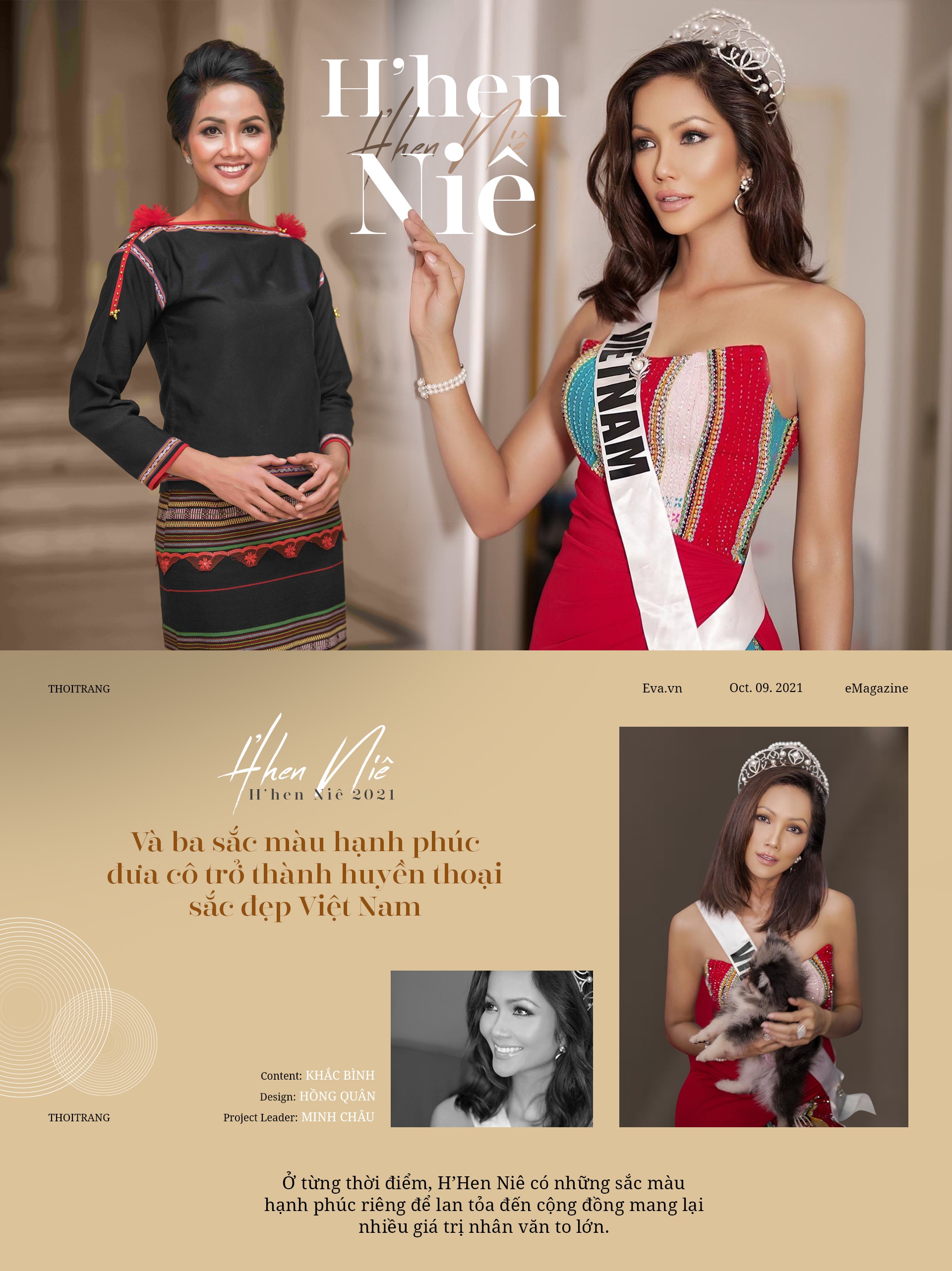 Among the Queens who have ascended the throne in recent years, the most influential and beloved person is none other than H'Hen Niê. Starting from a farming student, H'Hen has a great ambition and determined to pursue an educational path, the opportunity gradually came when she broke through to become Miss Universe Vietnam 2017 and set a new goal. A historic milestone for the country when reaching the Top 5 Miss Universe in the same year.
In H'hen Nie, there are always separate colors and do not mix with anyone, in each stage of the queen's career there are specific colors. It is the bright yellow color that brings the desire to reach out to the sea in the evening gown and the legendary swing at Miss Universe 2017. Or the blue color of trust, hope and steady spirit from the suit. the tight protection from head to toe that H'hen Niê has attached to every time she has volunteered to fight the epidemic for more than 3 months. Finally, it must be the basalt red tone of the origin, the typical color of the brocade costumes that the queen wears as if to remember where she was born and always wants to return every time she wants to recharge.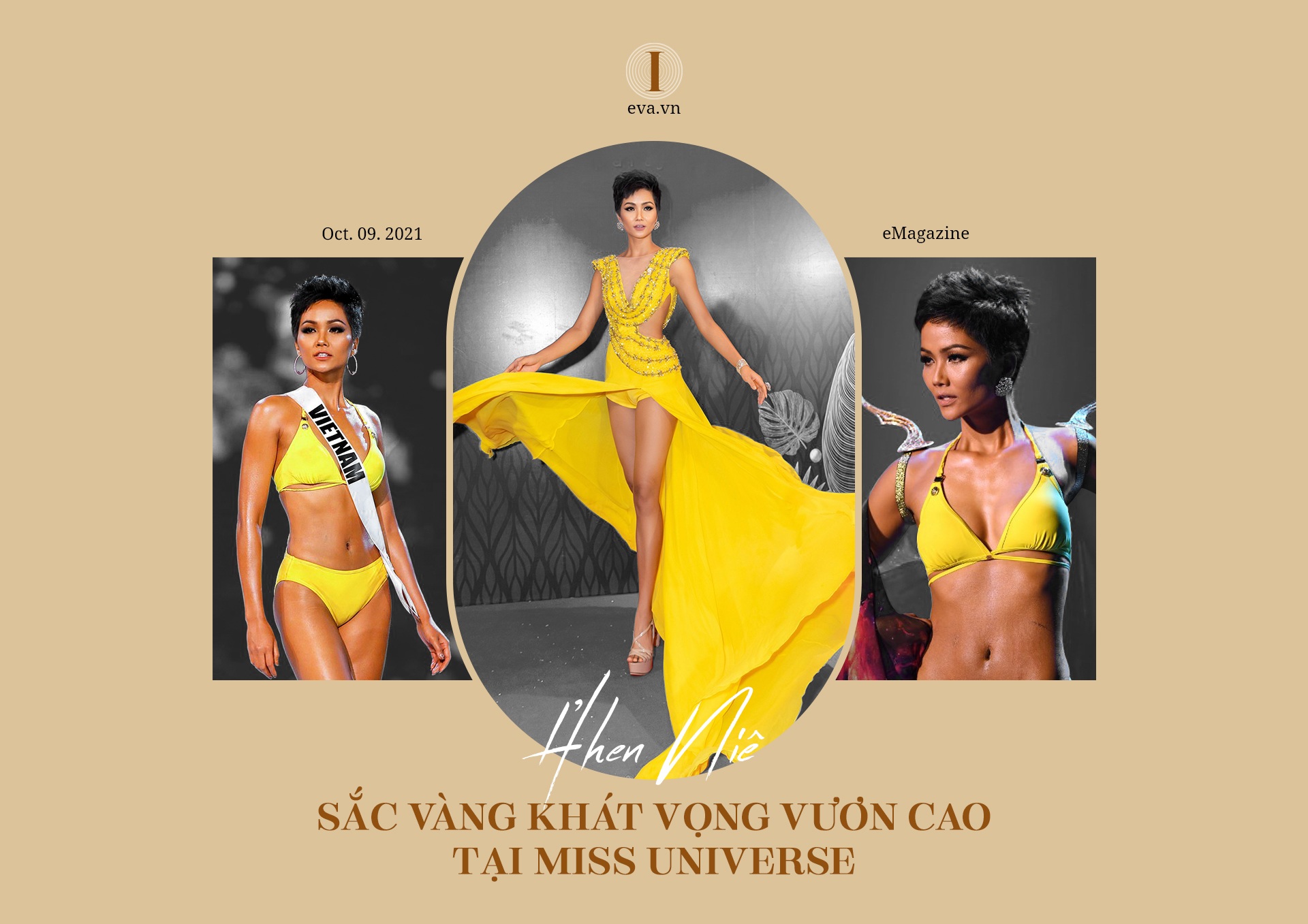 Immediately after being crowned Miss Universe, H'hen Niê's determination to fight in the biggest beauty arena on the planet was clearly demonstrated through her hard work, study, and preparation for each contestant. occurrence times.
Vietnamese beauties who have just arrived in Thailand have made a good impression by their beautiful outfits, when skillfully integrating their homeland culture into each set and are always hunted by the media and leading fashion magazines in your country. welcome, compliment all about the style of dress.
The legendary skirt swing on the semi-final night helped two words from Vietnam and the image of H'Hen Niê appear densely in the international media. This historic moment has helped her gain strong attention and at the same time create a superior sympathy compared to other beauties in the world.
The skirt was conceived and edited by H'Hen Niê and designer Linh San to produce the most perfect version. Accordingly, the brilliant yellow color symbolizes the desire to win, a bright future ahead like the sun shining on her, and it is not unexpected that this yellow dress becomes one of the most beautiful dresses in history. Miss Universe history.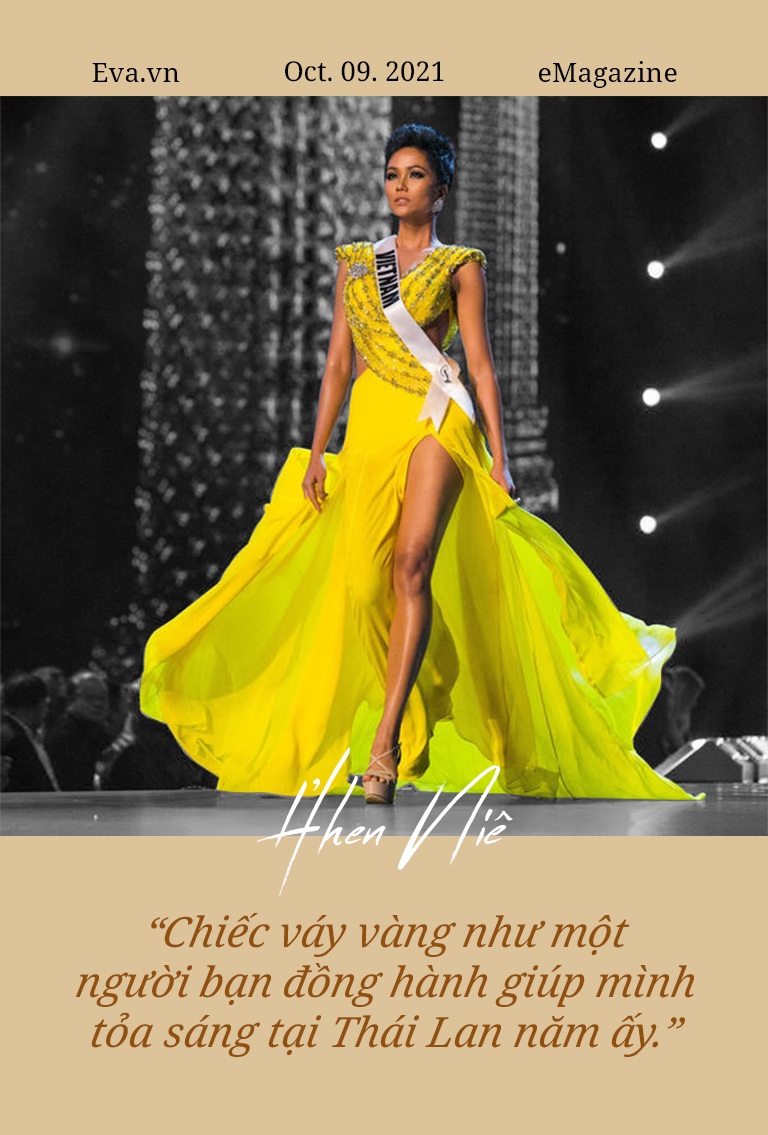 H'Hen Niê says: "The yellow dress was like a companion that helped me shine in Thailand that year. The bright and vibrant yellow that H'Hen has liked for a long time, the costumes to attend that day were also many yellow ones. For Hen this is the color of hope, the effort to have a bright future and fortunately H'Hen took the exam in Thailand, so yellow is also a favorite color of the people here. I am also loved and cheered a lot when wearing this special yellow dress of Ms. Linh San in the semi-final night of Miss Universe 2018. Until today, H'Hen is sometimes loved by foreign fans or foreign fans. On their own or international beauty page, they also tag on Instagram to praise or remind about that performance, every time H'Hen sees it, H'Hen is choked up and grateful for that moment as well as very grateful for the love. The feeling that fans have favored for me."
Since that international shock, the beauties of the next generation are also inspired by H'Hen Niê a lot, they also spend time watching the Vietnamese queen to learn more competition experiences. international beauty.
Now, the name H'Hen Niê is always mentioned by the world as a beauty symbol that has been the locomotive to help Vietnam rank up on the world beauty map, and the image imprinted in their hearts is a short hair beauty queen with iconic golden dress swing.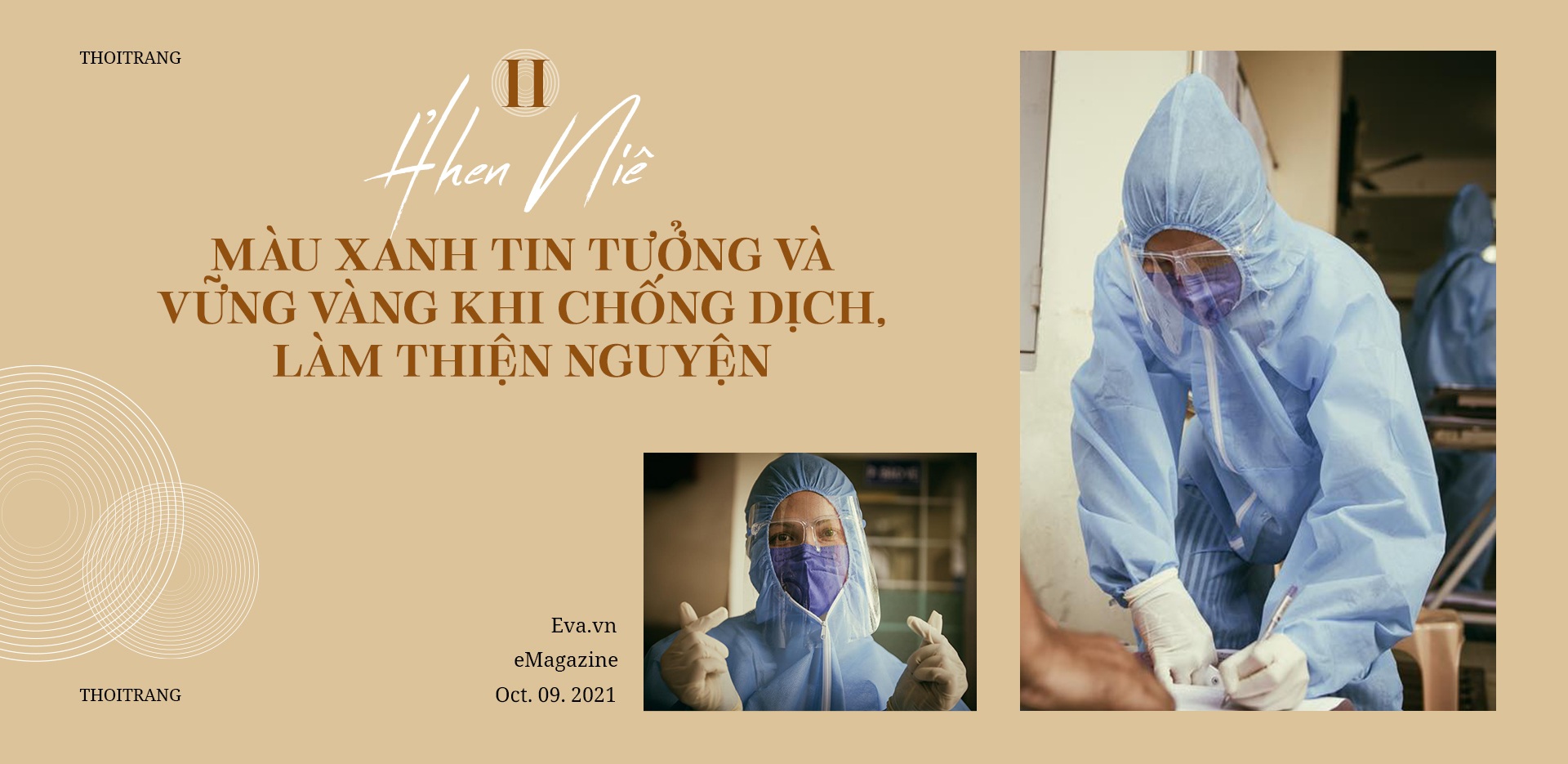 Leaving the yellow color in the early stages, now H'Hen Niê has been going through the green tone of trust and steadfastness when participating in the frontline support against the epidemic.
No pants are clothes to pose luxuriously on the red carpet anymore, instead H'hen Niê has a very special outfit that people often call it a protective suit.
The red carpet is now a silent street of the City, the name that people call her is also very different from before, and there H'hen becomes the Queen of the porter or Miss Culi… ready to go. ready to serve the people with gifts filled with love from donors.
Blue is also the color of clouds and sky, expressing the belief of a bright tomorrow and everything will be beautiful again. This is also the color of the tight protective suit that the famous queen has worn for more than 3 months to work as a volunteer against the epidemic.
Like the tone of the protective suit that H'Hen Niê always wears when volunteering, fans have given praise and absolute confidence in the post-born 1992 for the campaign. Donate to buy new textbooks that she bravely acted without regard for her reputation and great image.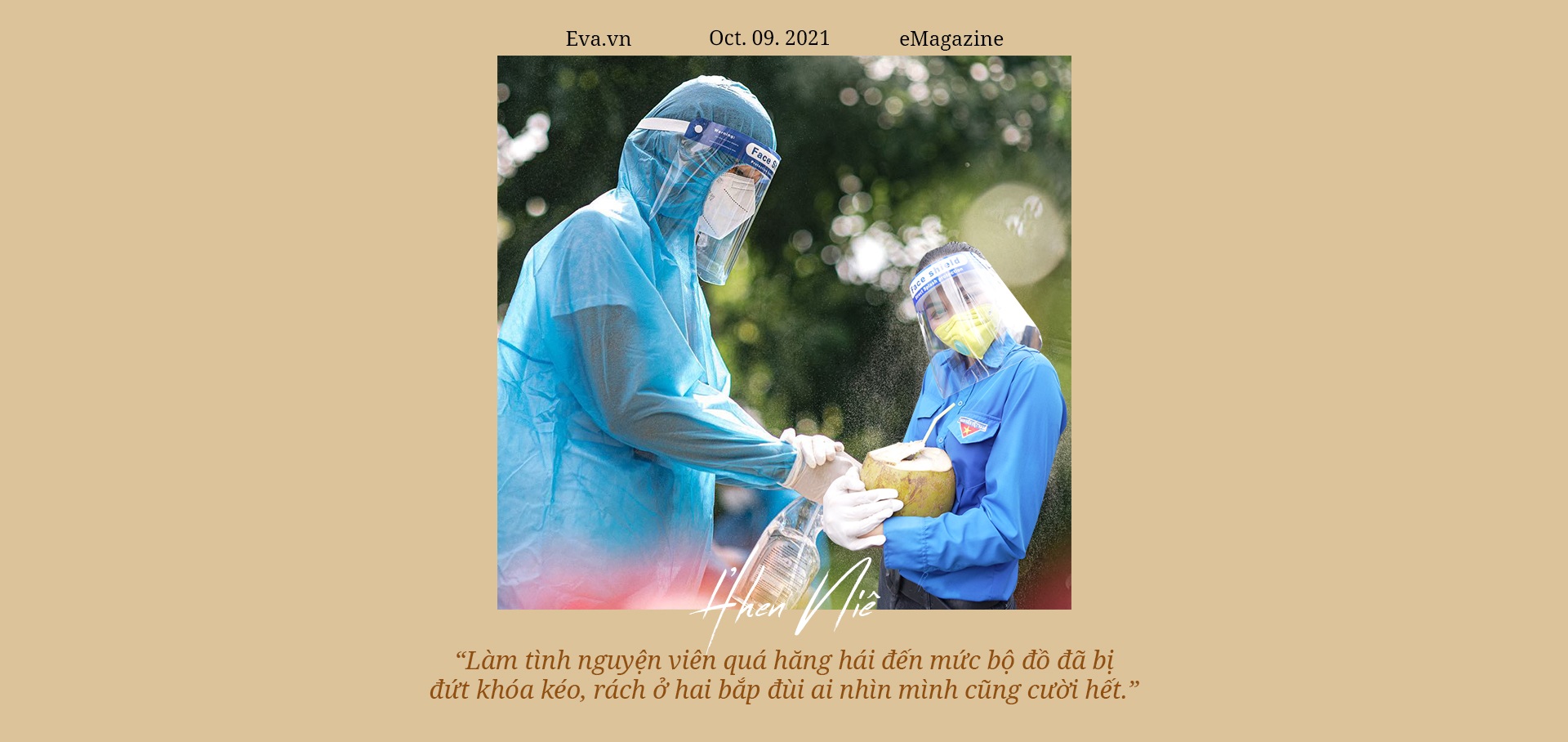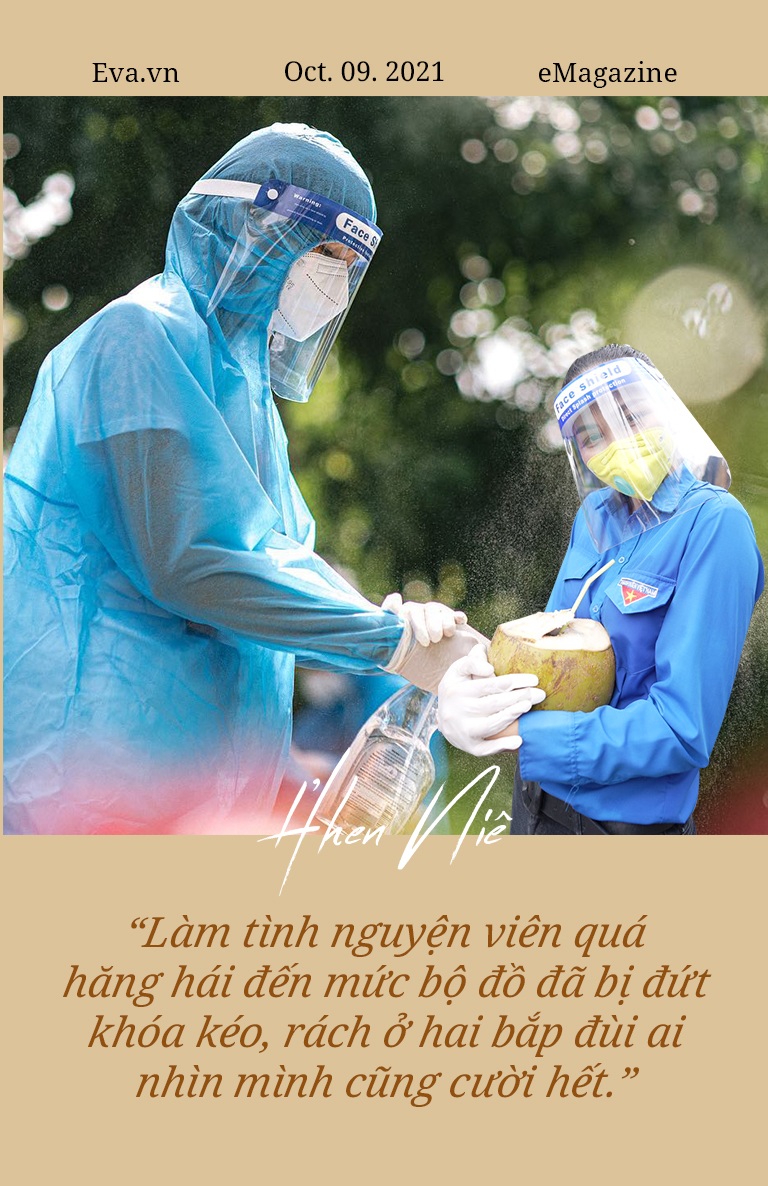 Behind this steaming hot suit, H'hen Niê had mixed feelings in every place she went to help people: "When wearing this suit to volunteer, H'hen felt more secure and also really understood the suffering of the medical team, doctors, volunteers… on the front lines against the epidemic. Everyone has to move quickly in closed clothes from top to bottom, there are even shoe protectors to prevent us from coming into contact with bacteria.
H'hen wore protective gear for only a few hours while working as a volunteer, but the sweat was drenched to the eyes, it was very hot, and she had to be careful when moving because she would not be able to tear the clothes right away. Not to mention that there is a layer of casual clothes inside, so H'hen chooses the lightest and most comfortable clothes inside, wearing sandals, not shoes, so she can withstand it in a protective suit. It makes me really respect the doctors, nurses and volunteers on the front lines against the epidemic, they have been wearing protective gear around the clock for more than 4 months, wearing so much that the skin is red, itchy and present. marks from masks and protective gear, There are even people who are exhausted and faint on the spot, looking at these pictures H'hen is really both amazed and heartbroken and just hopes the pandemic will pass quickly so we can return to normal life, not wearing protective clothing. this household again.
Well, one more thing that H'hen finds quite interesting is that because H'Hen Niê has short hair, just tie a garlic bulb to be able to wear a helmet with this outfit, and doctors and nurses. or volunteers or artists who volunteer with long hair, it's more extreme than H'Hen, you have to tie your hair tightly, if your hair falls down, it will be considered unbearable hot." .
In addition to protective gear, there are double-layer masks and anti-droplet glasses, all those accessories seem to become weapons to protect people when going out. But it is also thanks to the outfit that when I glance at people who don't know who I am, I can see more meaningful things than when just looking through each other's eyes, everyone shows great determination. The suit was very hot but no one dared to take it off, even H'hen didn't dare to go to the toilet because it would cost me a new protective suit, so I'll try to save a little. (Laugh).
There are days when when going to coordinate vaccination or take samples, you have to read names or instruct people, only through your voice, doctors, or people realize, even though they are in a hurry, they only see a blue color of the map. I was protected but still received thanks from everyone, my eyes were also filled with tears at that time with a wish for the epidemic to pass, so that we could return to normal life.
A very happy memory is the days when carrying food, food or rice for everyone to move a lot, at that time, I worked so hard that the clothes had broken zippers, torn at the thighs, anyone who looked at me could also remember. laughed, fortunately the brothers worked in a separate warehouse at that time, so it was not a concern. In the early days of the volunteering, H'hen still wore sports shoes for comfort and walking more quickly, but when wearing protective gear, H'hen changed to wearing slippers to prevent foot tunnels but also comfortable. again. Although there are many unforgettable memories with this special outfit, H'hen hopes that in the future, she will not see them again!"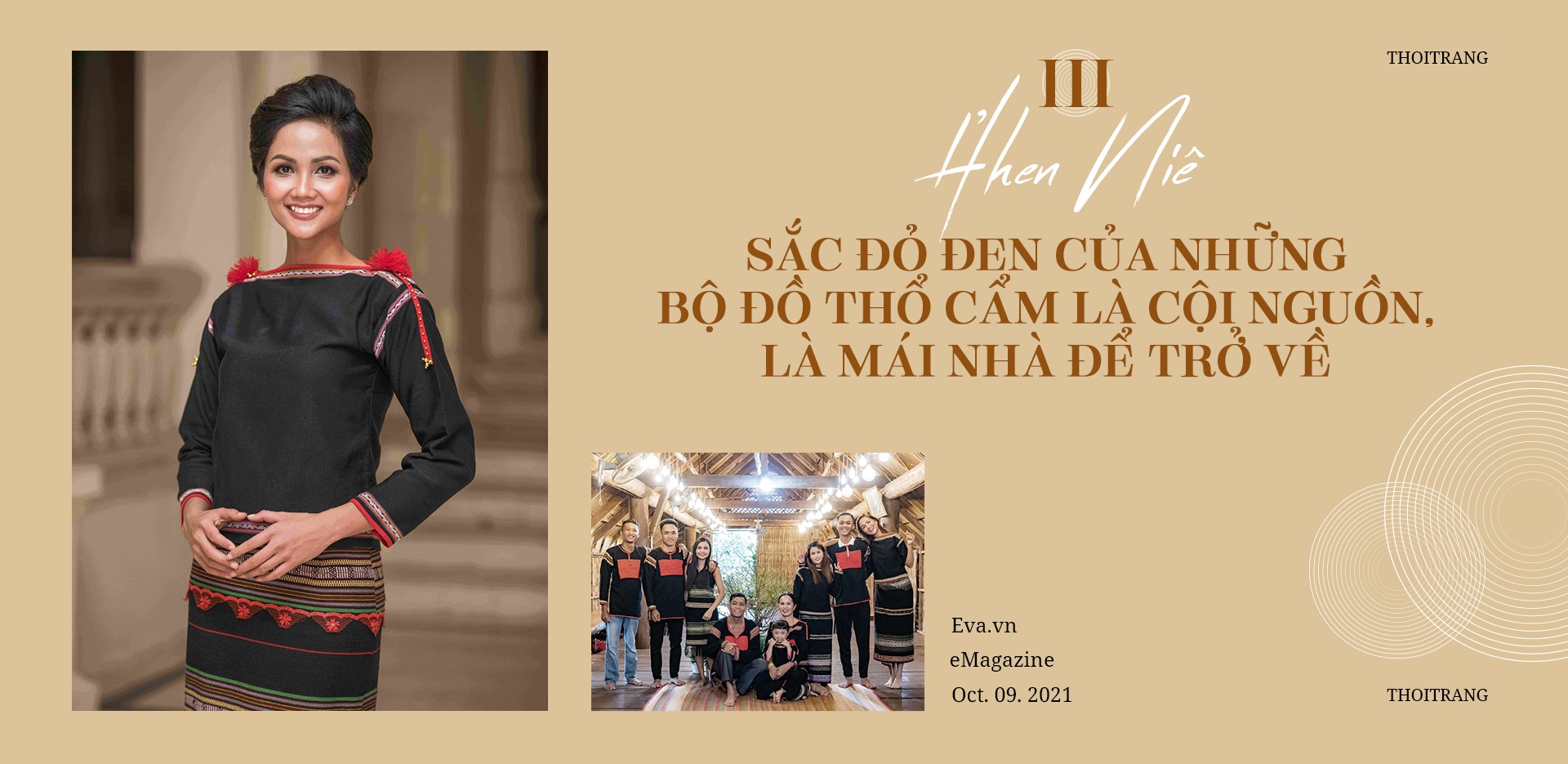 These days, when asked where H'Hen Niê wants to go at the end of the epidemic season, the queen does not hesitate to answer right away that is to go back to her hometown to visit her parents and family. As a person who loves her family and deeply cares for her homeland, H'hen is very delicately expressed through beautiful brocade clothes as a reminder of her hometown, where she grew up and has today.
Childhood is associated with brocade cloths with vibrant red colors mixed with powerful jet black. The queen now always cherishes and wants to bring this fabric closer to the public, thereby promoting the cultural beauty of her homeland.
H'hen Niê did this very well when she became the first Miss Vietnam to be praised by a series of famous Thai fashion magazines for her unique brocade outfits on newspapers such as: Vogue Thai, Elle, Harper's Bazaar…
Even in difficult days during the pandemic, when becoming an ambassador of charity programs, exchanges or online sales for people. Our queen still delicately wears the traditional costume of her homeland and creates absolute sympathy from the fans.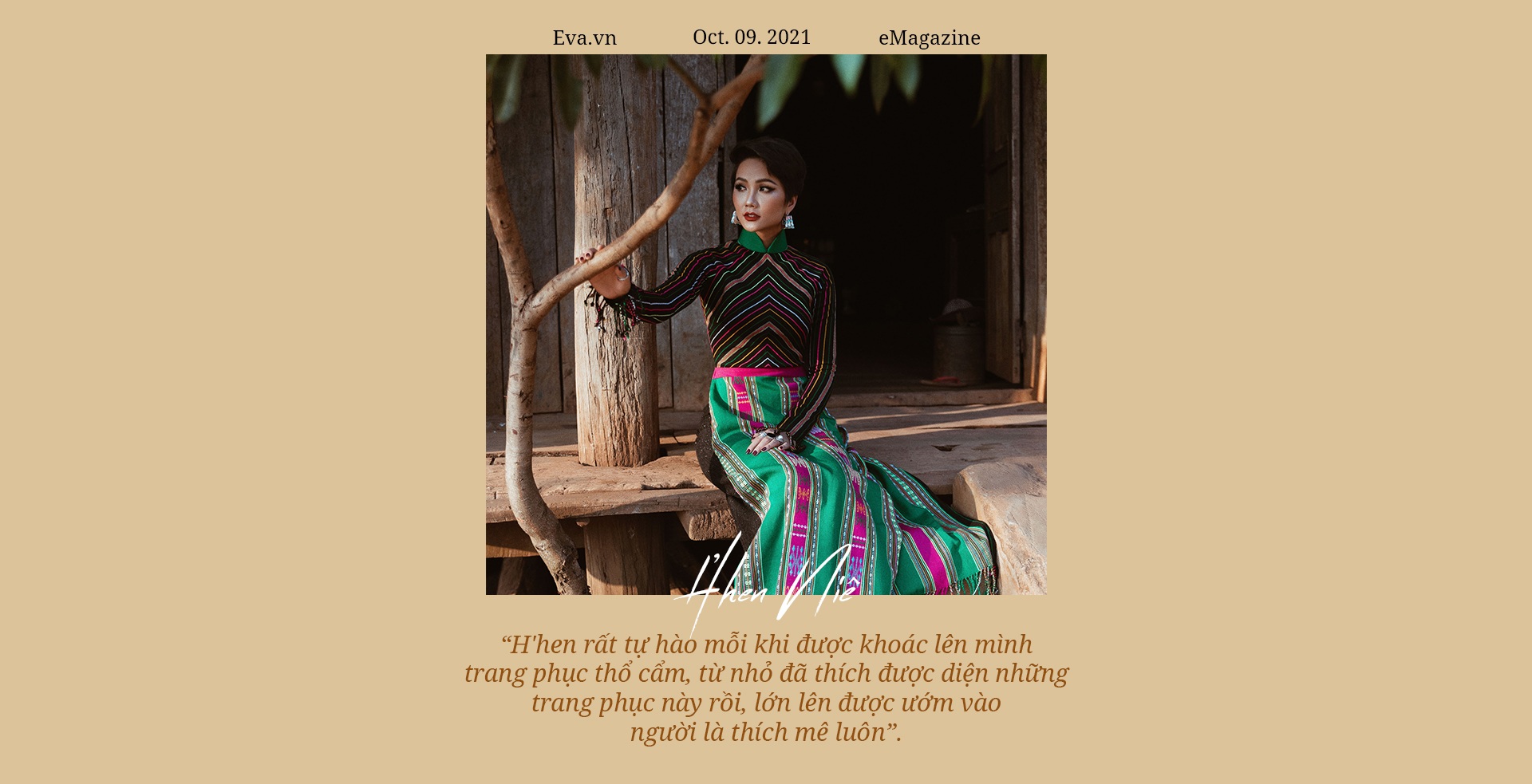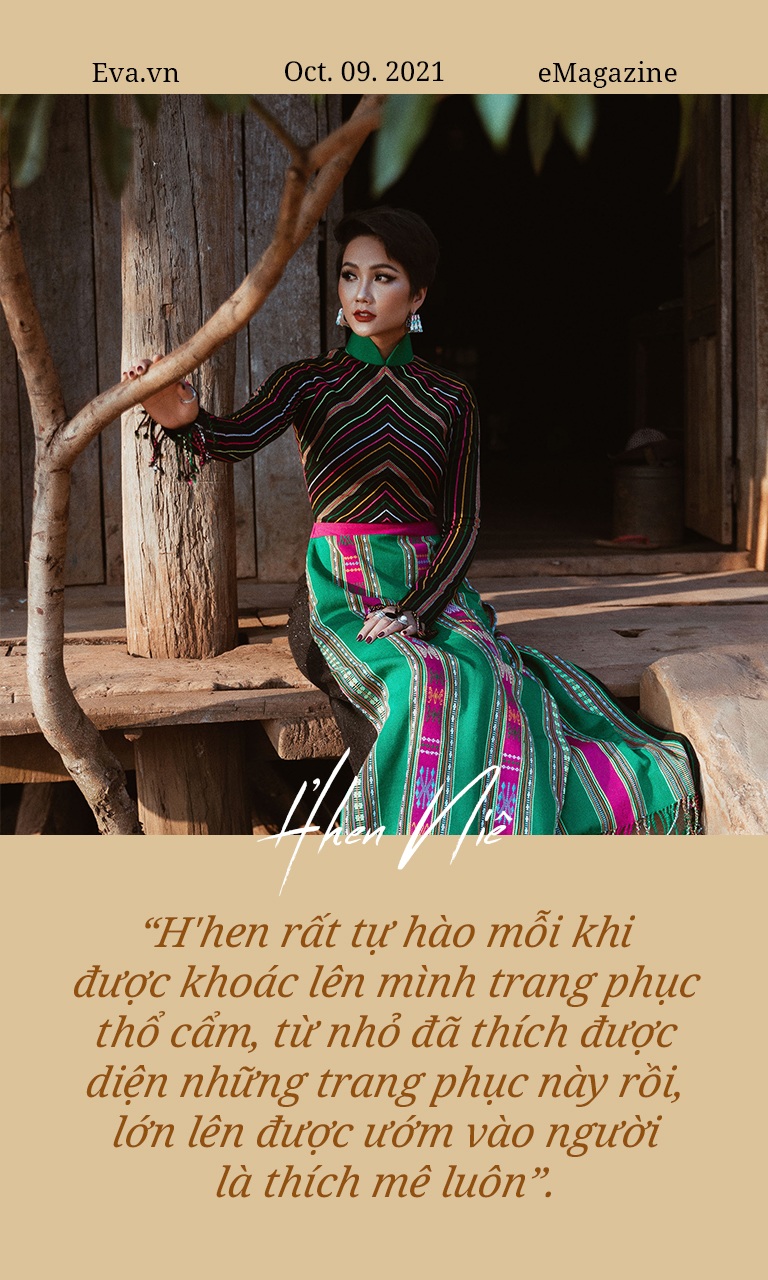 "H'hen is very proud every time she wears brocade costumes, since she was a child, she has loved wearing these costumes, growing up, she loves to wear them. When I went to the Miss Universe contest, when H'hen wore the brocade that you liked very much, I also felt much happier and more confident. Recalling the moment when going to the final walk at Miss Universe Vietnam 2019 is also the brocade costume of my hometown, almost every important event I wear is related to brocade, the designers The designer is also very fond of sewing very beautiful dresses with this material for H'hen, very grateful for that.
Brocade in H'hen's hometown has many colors and styles, but the simple outfit still has two colors of red and black as people often see. This is the outfit that when there are important occasions in the village people will wear, the design of men will be different from women. There is an Ao Dai made of white brocade fabric, made by Linh San's mother for H'hen to wear in Thailand, and was given to the Ao Dai Museum for display as a special mark in the transmission of information. meaningful messages about the country's culture to international friends. This is really a great honor for H'hen herself and her adoptive mother. The last time I wore a brocade costume was probably a livestream to sell agricultural products to the people of Dong Thap during the epidemic season, when I went live, everyone liked and praised the outfit a lot, thanks to wearing brocade clothes to sell. It's way too expensive."
Yellow, blue, red and black are tones that bring deep meaning and are also the crystals that create a beauty legend named H'Hen Niê. Each color tone brings with it a range of emotions corresponding to different stages in the life of the queen, with happiness, beliefs, aspirations and also the sources that people will know right away. Who is H'hen Nie!
Source: http://thoidaiplus.suckhoedoisong.vn/hhen-nie-va-ba-sac-mau-hanh-phuc-dua-co-tro-thanh-huyen-thoai-sac-dep-viet-nam-d289241. htmlSource: http://thoidaiplus.suckhoedoisong.vn/hhen-nie-va-ba-sac-mau-hanh-phuc-dua-co-tro-thanh-huyen-thoai-sac-dep-viet-nam-d289241. html
.

Nguồn: https://eva.vn/thoi-trang-sao/hhen-nie-va-ba-sac-mau-hanh-phuc-dua-co-tro-thanh-huyen-thoai-sac-dep-viet-nam-c269a493085.html